3 MINDFUL BEAUTY RITUALS, TRIED AND TESTED BY CLEAN BEAUTY ADVOCATE THE CLEAN BEE
Oct. 7, 2021
Feature image by Tanya Jane Photography.
Article and images by guest contributor Madalyn Tavares of The Clean Bee.

For many, 2020 had more than a few moments that warranted wine. 

From lettered shopping days (team 'T' over here!) to beach shutdowns (our sunspots might thank us for that one), getting through it with a glass of vino seemed almost essential. 
 
So, when the New Year's Eve bells rang, and we let out a collective sigh of relief, the thought popped into my head: 'It's time for a break from booze.'
 
'Huh?' I cried back in my subconscious. 'Why?!'
 
Not one for confrontations, I decided to acquiesce and soon after, I committed to an extended hiatus from alcohol.
 
Of the many benefits I've experienced since undertaking this AF journey, one of my favourites has been that when I stopped indulging in weekly wine purchases, I had extra money to spend on other things – like self-care.  
 
'Self-care' might conjure images of bubble baths, sheet masks and Netflix. And while I'm no stranger to those, the self-care rituals I'm sharing ahead are an elevated form, supporting and nourishing the body from the inside out.
 
Before the 2022 New Year's bells start ringing, take a moment to relax and reflect, and read on for three holistic treatments to step up your self-care – you deserve it.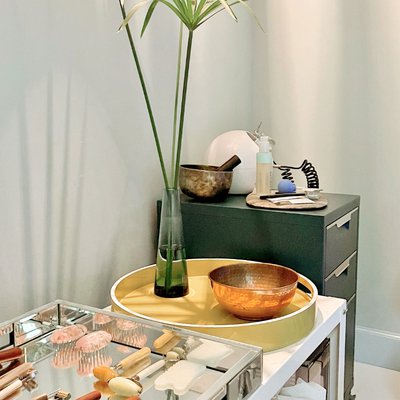 Better skin from within with the Glo-Up Facial
 
Now that I'm almost five months booze-free, I can confidently confirm that removing (or reducing) alcohol greatly benefits the skin. It's also inspired me to try new ways to care for my skin. 
 
Enter the Glo-Up Facial. This OxyGeneo facial is truly LUSH and left my skin feeling fresh, toned and dewy. The experience begins with a gua sha massage, which helps stimulate blood flow and kick the lymphatic system into gear. This process is key when you're looking to reduce facial puffiness and release toxins. From there, the technician moves into the exfoliation and infusion stage. A gentle micro-needling pen (you don't even need a numbing cream) glides across your skin, helping stimulate collagen production and preparing your pores to absorb all the goodness to come. You get to customise the treatment by choosing which light therapy and facial mask to use. I opted for the Blue Light and Charcoal Detox to target active pimples and detoxify the skin. The facial finishes with serums to address your concerns and a cooling mist.
 
This treatment is the perfect blend of relaxation and effectiveness, giving you those sought-after 'spa vibes' while also driving results. My skin was lapping it up, even days later – and with some products to try out at home, my skin has not looked this good in a long time.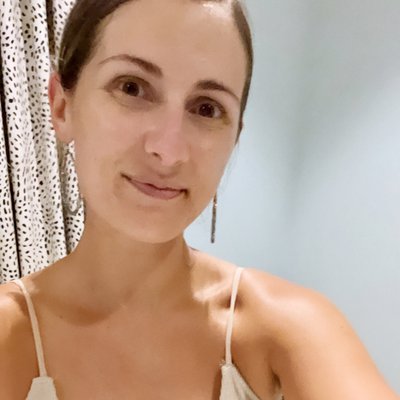 Releasing toxins with the Tight Like a Tiger body therapy
 
The name of this treatment had me curious…
 
*Queue all the Austin Powers movie quotes*
 
After a momentary giggle, I was ecstatic to try out this detoxifying body therapy.
 
I've made a conscious effort to incorporate holistic practices that support my body's detox pathways on this AF journey, and one oft-overlooked component of detoxification is the lymphatic system. This underrated MVP helps move built-up toxins and excrete them through sweat, making this treatment the ultimate lymph supporter.
 
You begin flying solo in the infrared sauna – a sweat session with a boost because you're wearing a magnesium gel body wrap (I brought a book with me, which made the time fly by). After that, you'll pop into the shower (bonus points if you try a little cold therapy by not letting the water get hot). Once you've rinsed off, you get to snuggle into the massage table, where the next portion of the treatment begins. The therapist uses a combination of hand techniques, fascia-blasting tools and a G5 Massage to release tension, smooth cellulite and help your body get rid of toxins. This full-body experience finishes with an application of Indie Lee's I-Recover Mind & Body Gel, giving you the perfect cooling, tingling sensation.
 
To say I walked out of the treatment room relaxed is a total understatement – I felt like I was walking on a cloud! I made sure to hydrate that evening before relaxing into a deep, restful sleep.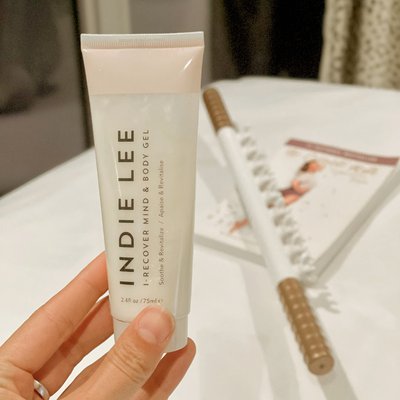 Combat pesky pimples with the Banish Solution by Indie Lee

Chin pimples, anyone?
 
While going AF has tremendously improved my skin tone, texture and appearance, I'm still *blessed* with a few pimples each month – especially when wearing face masks. 
 
It's annoying AF – and no, this time that doesn't mean 'alcohol-free'. 
 
When I expressed this concern to the team at No.11 Spa, they introduced me to a product I wish I knew about ages ago. The Indie Lee Banish Solution is THE Holy Grail when it comes to eliminating imperfections on the spot. 
 
I have two pesky pimples on my jaw, right where my mask sits, that flare up when I'm wearing it for extended periods. So I followed the No.11 Spa team's advice and dotted the solution on the spots, then drifted off to sleep and let the solution work its magic. When I woke up, I was amazed at the result!  
 
How does it work? Colloidal sulfur and salicylic acid draw out impurities and absorb excess oil, while zinc oxide nourishes skin to alleviate dryness. This little jar is the perfect clean beauty addition to my skincare arsenal.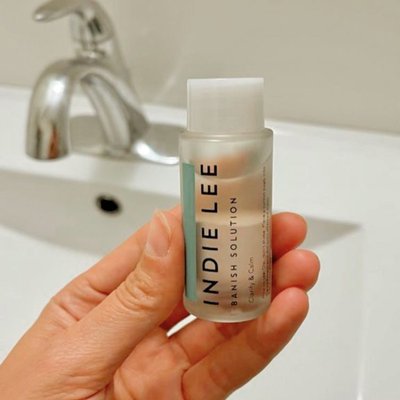 You deserve to elevate your self-care
 
Whether you're going alcohol-free or not, you deserve some time to replenish and restore.
 
Nurturing and supporting your body is a crucial part of filling your cup. I hope you give one (or all) of these a try! If you do, be sure to tag me over on Instagram (@theecleanbee) and let me know what you think!
 
Until then, I'm virtually cheering you on!